This week we were introduced to the ultra chic Liv Girl Dolls made by

Spinmaster Toys

,

Hayden

, Sophie,

Katie

, Alexis and Daniela! With a suggested retail price of only $19.99 each, these are one of the best girl gift ideas we have found this year! Just check out the awesomeness ...from the very moment your little girl sees these she is going to fall in love.
Taking them out of the boxes and getting to see all the details of each doll we a lot of fun!
Each one comes with various accessories, one of our favorites is the beanies that two of them sport. Another super fun aspect is that you can buy wigs for them so you can change their looks. There are also complete playsets and more fashions and accessories that can be purchased.
But just as they come they are a perfect gift! So realistic and so many little details like hands and knees that bend and move around. Daniella who has the guitar can even move her little hands so she can actually hold it! These are definitely the coolest dolls we have seen in 4ever and while at Target we found them on sale for $18.88! Of course there were no wigs in stock and we came home empty handed but I am sure after the holidays they will stock up on more so we can get them all, but we really love these dolls.
The two little girls also love these dolls but since they are recommended for 5+ all we had to do was hold the accessories since they are smallish and gave them the dolls alone. Sammy loves them and keeps calling

Daniella

, China.
Sammy also happens to be very much into drums so this is the playset that we plan on getting her for Christmas... we found it online for only $14.99!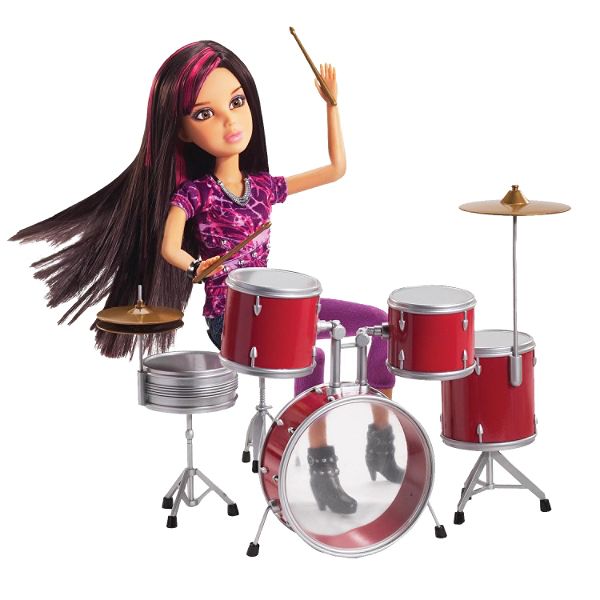 You can find LivDolls at retailers nationwide and online... plus every store we found them at has them on sale so it's a perfect time to purchase your dolls and introduce your little ones to these beautiful dolls that are so very lifelike and so much fun. Then visit

LivWorld

where you can play games, watch videos and be a part of the whole Liv World!
Stay in touch with LivFashionDolls on FB by liking their page

HERE

.
extra entries: Like Liv on FB and get 2 extra entries into any of our giveaways, please leave FB username

*Sponsor Provided samples of LivDolls for review. We were not asked to give a positive review nor were we compensated in any way.