This shop has been compensated by Collective Bias, Inc. and its advertiser.
All opinions are mine alone. #DineALaCat #CollectiveBias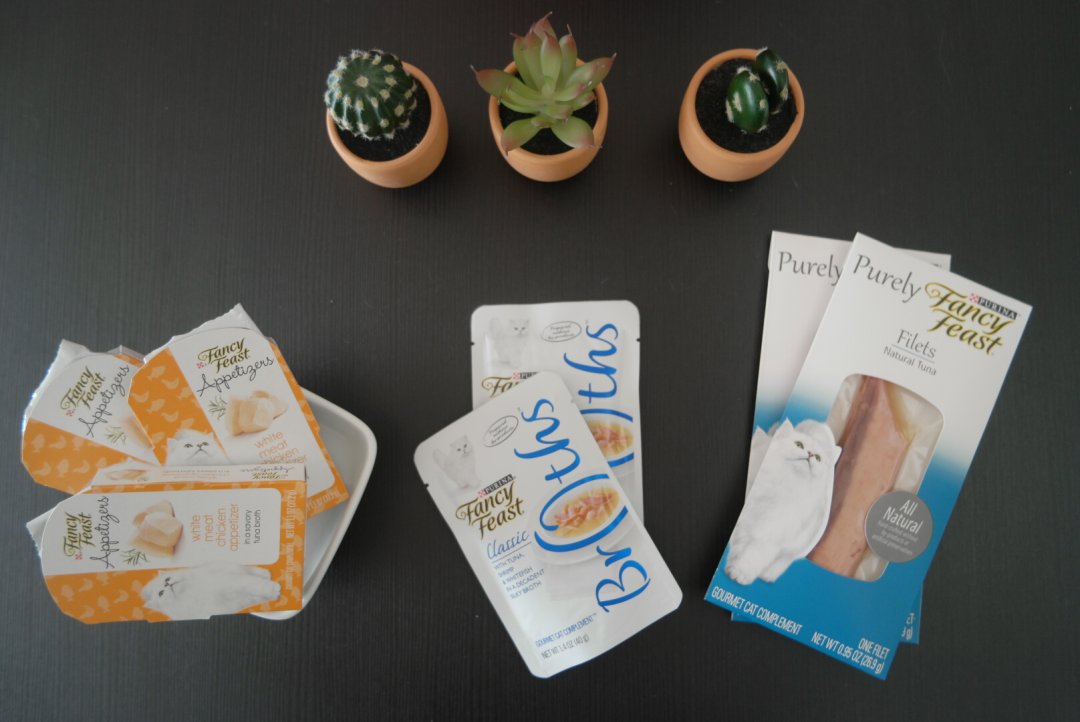 A lot of people wonder how crazy it is to live with 6 cats but it's not really all that hard. Yes they require a little extra work and feeding time can get crazy when there are so many underfoot, but at the end of the day they make our life better.
If I ever have a really tough day and feel extra crappy, I come home and sit among them. Even though none of our cats are super friendly and don't love to be held, they do love to hang out and chill with me. Once I sit anywhere in the house they slowly find their way around me. Something about this mom cat (who was once alone on the streets) now comforting me with her little family, just makes me feel so much better.
That's why making sure that they have a good life is important. Today I am sharing just a few of the ways that our cats get a little bit of pampering, starting with how we perk up their meals a few times a week.
Shop for
Fancy Feast
® complements by clicking the links to the products above.
There is an
Ibotta offer
beginning on 9/5, where you can earn cash back when you buy any two (2) Purely Fancy Feast® Filets, for a limited time.
Shop at PetSmart:
PetSmart
is a perfect place to pick up all of your cats needs and super convenient when you don't have time to shop at different stores. At PetSmart you can find everything from food and bedding to toys and collars. My cats are not exactly outgoing so they have never been in-store but if you have a cat that goes out on a leash, then they would love the PetSmart experience for sure. They can shop in-store with you and help pick out their own goodies and probably make you spend more than you intended, just like kids do.
But I really do love how convenient it is to shop in one place for
our cats and how I can always find a little something to bring them home. If you have cats then you know how much they love toys, especially the little rolling balls that keep getting lost no matter how many you buy.
Buy your cats
Purina Fancy Feast® complements for a delicious treat addition to their mealtime:
Fancy Feast
®
complements, available in
filets, broths or appetizers are a great to complement your cats meals. These are smaller portions and are not intended to be served as a full meal. But as an appetizer before your cats regular food or as a treat. These complements definitely hit the spot and our cats love finding out that they are getting a special treat whenever they see the little packages.
Their favorite is the
Fancy Feast
® Broths Tuna Whitefish Shrimp Classic Broth, which gives them a perfect portion of broth with pieces of seafood to enjoy before their dry food.
What a way to perk up their mealtime!
With 6 cats it can get expensive to buy wet food all of the time, that's why our cats eat a diet of mostly dry food but
Fancy Feast
® complements make it easy and affordable to be able to pamper them with something special a few times week.
Add p
urely Fancy Feast® Filet
whole, flaked or as a topper to your cat's meal:
Purely Fancy Feast® Filet
can be flaked on top of your cat's dry food, break it into a tender treat, or even serve it whole. These 100% natural filets are an even easier way to make your cats current food even better! I like to break these filets into pieces and really mix them into a bowl of dry food, that way every bite is a treat.
These filets are really affordable and go a long way to really perking up any cat food bowl.
Give your cats plenty of space:
One of the most important things for allowing your cats lead a happy life is to give them the space they crave. Cats are not as loving as dogs, for the most part, and unlike dogs, they like having space.
We keep extra space all around the house for the cats.We have tables and shelves scattered throughout the house and all of the bottom shelves are empty, just for them. These are the areas that you can find them sleeping on all day.
With multiple cats it can get hard to pamper them as much as they deserve. But by giving them attention, space and a treat at mealtime every few days, I think they know that they are cared for and appreciated.
Fancy Feast
® complements are a budget friendly way for us to perk up mealtime for them, and boy do they look forward to those meals. They are so smart that they already recognize the sound of the packages being opened and it's heartwarming to see how excited they get as they await their bowls.