I have received information and materials from ©Johnson & Johnson Consumer Inc. 2017.The opinions stated are my own. This is a sponsored post. #ForBetterTomorrows #BetterTomorrows #FallBack #CollectiveBias
As I have shared before, I work as a school photographer and the fall season is the busiest season for us. There are days that I am up before 3:30 in the morning and will work up to 14 hours.
These long work days coupled with a lot of loading and unloading of heavy equipment can definitely work a number on my lower back. Also, I work with children, lots and lots of screaming children, which can lead to a few pretty bad headaches a week.
This is a great time for me to score some OT, especially with the holidays right around the corner, but by the end of the day my entire body is filled with aches and pains. As it is with most moms, there is no downtime the next day, which means that I need to get a restful night's sleep, and combat the aches and pains too.
With daylight savings on November 5, the days are shorter but I still want to take advantage of every single hour, without being in pain. That's why my night's are so important, each night's sleep has to get me ready for the next day.

My weapon of choice at the moment for getting a good night's sleep is

TYLENOL® PM, a two-hitter pill that not only helps me get some extra zzz's, it helps relieve all the aches and pains of the day. Along with

TYLENOL® PM, there are a few steps that I take to ensure a more restful night.
5 Steps to a More Restful Night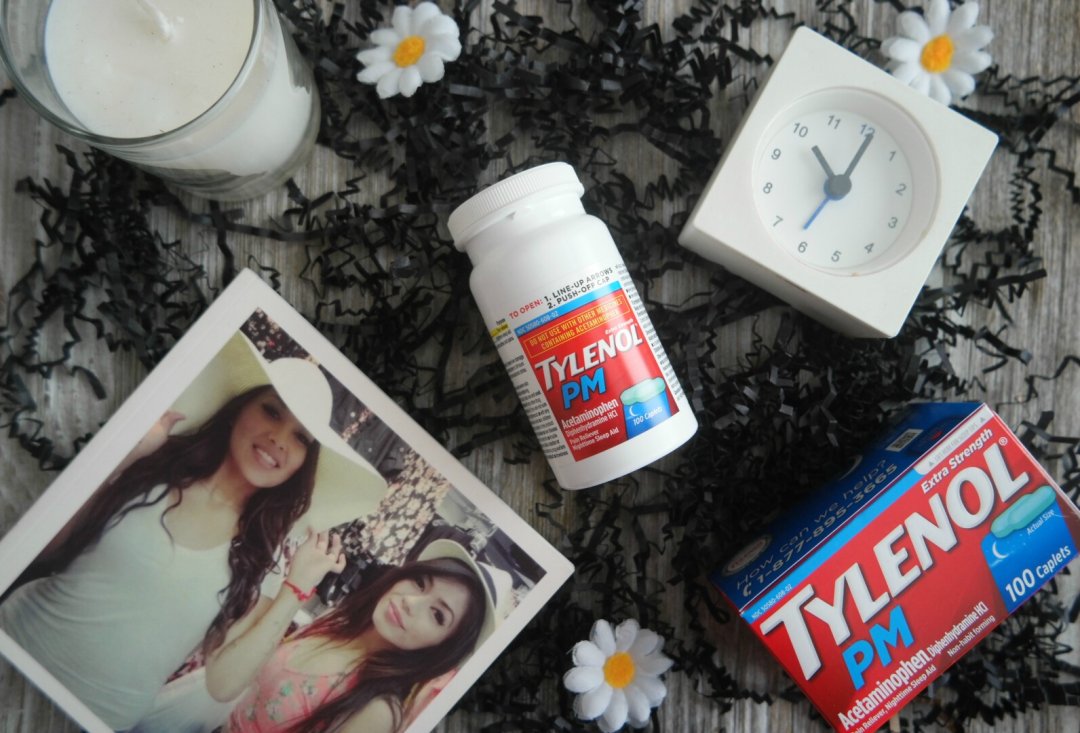 Two caplets of
TYLENOL® PM at bedtime:
a good night's sleep positively impacts our mental and physical well-being, getting a restful night's sleep when you suffer with aches and pains is not always easy. On those really tough days, t
wo caplets of
TYLENOL® PM at bedtime allow me to get my rest. *
Use TYLENOL® PM only as directed on the product packaging.
Shop for

TYLENOL® PM

at Walgreens directly from the photo above!
TYLENOL® is collaborating with Walgreens to help treat consumers that are experiencing sleepless nights. Sleeplessness is the primary issue these consumers face. Pain is an added layer of complexity to their sleepless nights and TYLENOL® PM relieves those minor aches and pains while helping you fall asleep.
Lavender Sleeping Spray:
making your own DIY lavender pillow spray is easy. All you need is some lavender essential oil, a spray bottle and water. Spraying a bit of this on your pillow and wrists at bedtime, every night, can help your senses rest. If lavender is not your favorite scent, there are many other essential oils you can pick from in order to concoct YOUR perfect sleeping spray.
Read a book versus surf the web: these days we never without a phone or tablet at our fingertips, especially when we wake and are getting ready for bed. But I find that the longer I spend on an electronic, the less I want to go to sleep. Instead of putting on YT, Netflix or going through your IG feed, pull out an old fashioned book 30 minutes before bed. I find that the act of reading gets my mind ready to rest and doesn't hype me up the way my cell phone tends to do.
Prepare a soothing cup of caffeine-free tea or warm milk:
a lot of people say that the warm milk trick is not actually effective for helping you get to sleep, but I find that it works for me. It's not about the milk actually putting you to sleep, it's about the warming and comforting sensation that a warm cup of milk gives us, especially if it's something that your mom did for you as a child.
Sleep sounds app:
for years I was one of the people that leaves the tv on in order to sleep, I've just never been able to sleep in a really silent room. But I learned that the sounds from the television can actually disrupt and stress us out, not allowing our brains to get that deep sleep we need. I have now discovered sleep sound apps and they've been a lifesaver. I can now listen to the sound of rain, the rumble of the city or any other sound that will soothe me to sleep.
Everyday life mean dealing with aches and pains, but don't let that stop you from getting the much needed rest your body needs. I hope a few of my tips can help you sleep better and more pain-free night's sleep so you can be ready to face the next day, and the one after that. What are some of your nigh time tricks to aid sleeping?
TYLENOL® PM contains a pain reliever and nighttime sleep aid.
©Johnson & Johnson Consumer Inc. 2017 The third party trademarks used herein are trademarks of their respective owners.