This shop has been compensated by Collective Bias, Inc. and its advertiser. All opinions are mine alone.

#LoveTheseCleanPaws

#CollectiveBias
I saw a sign at the store the other day that said, "Home Is Where My Cat Is", and I couldn't agree more, but for us, home is where our cats are. Last year I shared all about Fluffy, the pregnant stray who came to our door when she went into labor, and her 5 beautiful kittens.
We were supposed to start looking for new homes for this furry family starting in January but they are still with us and honestly we are in no hurry for them to go anywhere. While it took the family a bit to get used to having so many cats underfoot in the beginning, we've become used to this extra family being part of the mix. And, while we know that they will have to go to a new home soon, they are still very much part of our family.
So how does our family plus three cats get along with having an extra six cats in the home? Having grown up in a large family I am already used to tidying up everyday. The addition of pets, especially so many, just means that daily clean up and constantly keeping on top of their needs is important. If you're vigilant about their needs and messes, it is possible to keep a clean home.
Today I am sharing some of the ways that we keep the house livable and pleasant not just for us, but for the pets too.
Comb your cats coat every few days:
One of the biggest things you have to tend with when having multiple cats under one roof is cat hair. I grew up with 4 sisters and my mom, and I thought we had a lot of hair fall-out. With these cats, especially the long haired ones, the hair problem is insane.
An easy way to cut down on some of the mess is to comb their coat at least every few days. This can be something relaxing for kitty, I find most cats really love having me run a brush through their fur, and it gives each cat a little bit of extra one-on-one time with you.
Dust and vacuum on the daily:
I'm a mom so I know all about cleaning house daily, but with multiple cats you really can't skip it. There is just too much cat hair! A light dusting and vacuuming every morning, gets the house ready to be lived in by the humans and allow the cats to lounge about all day in comfort.
It's not as much work as it seems, not in our place. We've actually clocked it and with two people helping, we can actually get all the surfaces downstairs and floors cleaned in about 35 minutes.
Pick the right kind of liter for your multi-cat home:
How can we maintain the house smelling clean even with so many litter boxes?
Fresh Step® Clean Paws™ Multi-Cat Scented Litter with the power of Febreze™
Freshness is specific to our multi-cat needs. We bought it at Target! Fresh Step® Clean Paws™ Multi-Cat Scented Litter with the power of Febreze™ Freshenss helps keep cats paws and your home clean with a Low Dust Formula for cleaner surfaces. The low tracking formula helps keep litter in the box and off paws and floors, while eliminating odors for up to 10 days.
A special blend of larger particles is designed to stick less to your cat's fur and stay in the box, which means less tracking of litter all over your home's surfaces. Most importantly in our case, is the increased odor-fighting protection with the power of Febreze™ Freshness for multi-cat households. With 10-Day Odor Control, it eliminates odors for ten days guaranteed and has more odor-fighting power for litter boxes used by more than one cat.
Make sure you have enough litter boxes:
While our older cats have always had their own litter boxes, we simply didn't have the space to do the same with Fluffy and her many kittens. Instead, they share four boxes and we use Fresh Step® Clean Paws™ Multi-Cat Scented Litter with the power of Febreze™ Freshness, to keep them as fresh as possible.
Don't expect the litter to make magic happen, you still have to clean the boxes daily, and sometimes more than once a day. But overall this litter really makes a remarkable difference in how the litter box area smells.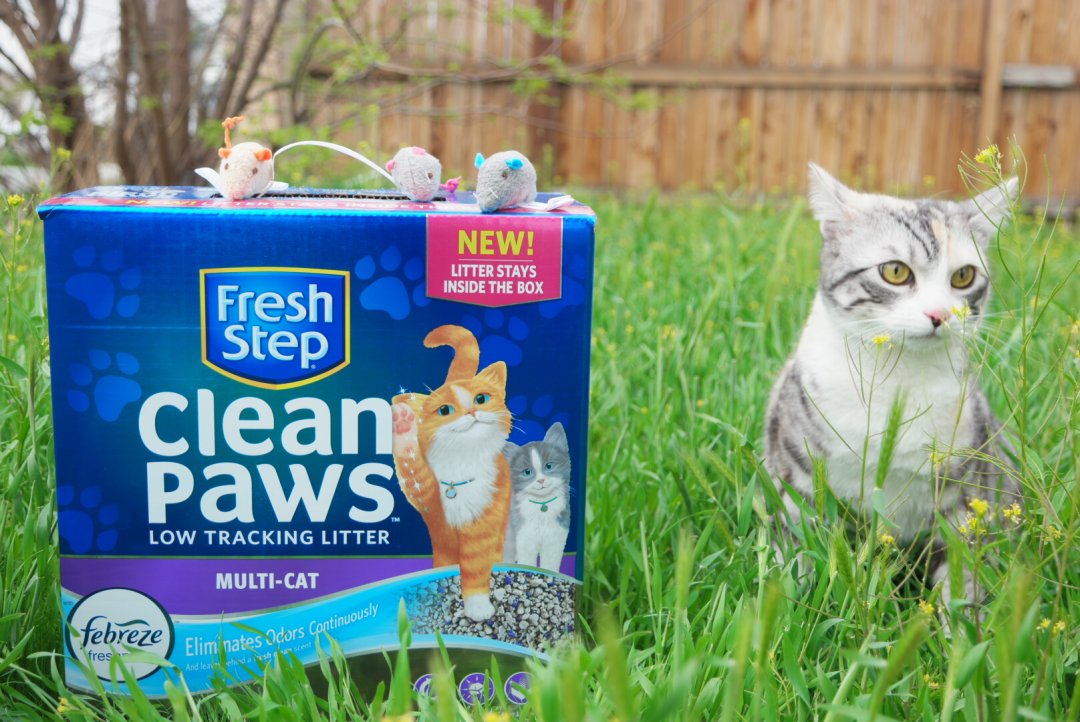 Febreze and the Febreze Freshness logo are registered trademarks of The Procter & Gamble Company, Cincinnati, Ohio used under license by The Clorox Pet Products Company. © 2018 The Clorox Company.