This shop has been compensated by Collective Bias, Inc. and its advertiser. All opinions are mine alone.
#CampbellsShortcutMeals
#CollectiveBias
With the back-to-school season upon us, I find myself at Walmart a few times a week stocking up on grocery items and back-to-school supplies. But the fact that I have a Walmart just a few blocks away means that it's a convenient stop for all of my shopping needs. I can make a large grocery shopping trip every two weeks and easily pop in for a few essentials in between.
Both Julius and I will be back in class this year and it's going to be very hectic, plus this year he will have his first experiences taking part on school activities and a sport or class (yet to be determined). We'll both be pooped at the end of the day which means we will be craving some major comfort food.
When I think of a quick meal that is meant to be comforting and filling I always think of a bowl of warm
Campbell's®
Condensed Tomato Soup or
Campbell's®
Condensed Chicken Noodle Soup
with a grilled cheese sandwich. I can prepare two serving of each in just a few minutes. That way we can have more time to sit down and enjoy our meal while we talk about our day.
Spicy Tomato Soup & Grilled Cheese
1 can of
Campbell's
® Condensed Tomato Soup
2 portions of French bread
Directions:
Heat tomato soup and add a few spoonfuls of
Pace®
Salsa
depending on how spicy you like your soup. Meanwhile, slice French bread, buttering both sides and add a few slices of cheese and tomato before grilling. Serve hot.
As kids we grew up having
Campbell's
® Condensed Tomato Soup, that's why it's one of my favorites. But my favorite thing about
Campbell's
® Condensed Tomato Soup is that I can make it my own by adding extra ingredients to it. Adding a few spoonfuls of
Pace®
Salsa is my favorite way to go because it's quick and delivers a real flavor punch.
As most Mexican families do, we like to add heat and spice to most of our dishes. Made with handpicked vegetables,
Pace®
Salsa makes it easy to add that extra kick without having to chop onion, tomatoes and jalapeños myself. Having a bottle of
Pace®
Salsa in the fridge is one of my favorite shortcuts and tricks for quick and easy meals.
Prepping dinner on a busy back-to-school night doesn't have to take long when you have
Campbell Soup Company products at-the-ready. With a hearty and comforting cup of soup and a warm grilled cheese, we can enjoy a nice dinner before having to hit the books.
Dinner, check! Can of
V8+Energy
® to energize me for the remaining hours of the day and quench my thirst with natural energy from Green Tea, check! Find
V8+Energy
® in the Juice Aisle!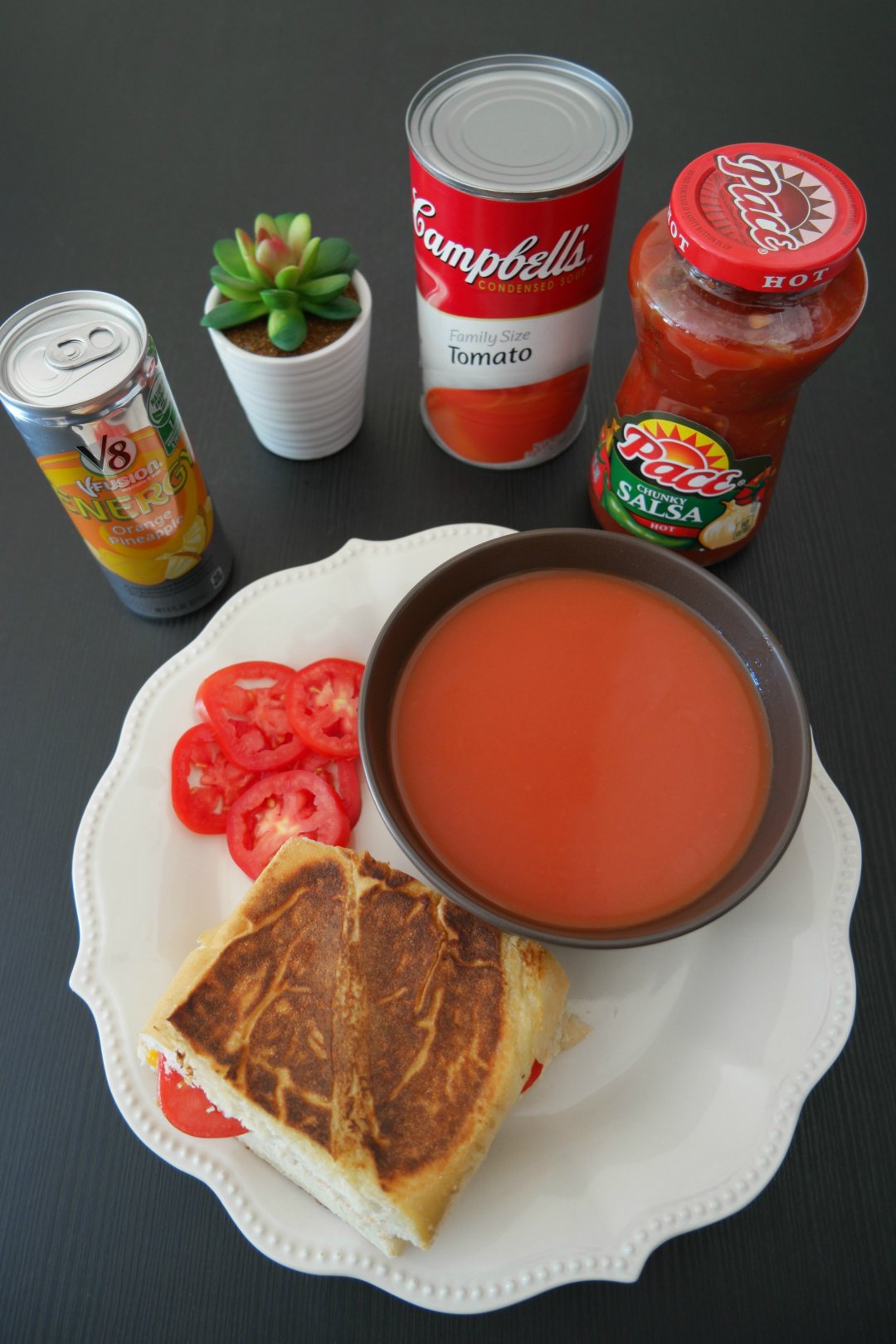 Ready to shop for delicious Campbell Soup Company ingredients? Hover over the photo to click through to Walmart.com and purchase them!
The back-to-school season means pulling out all the tricks for quick yet flavorful meals for the family. Need more ideas? Click
here
to visit the Campbell's Shortcut Meals website and get more back to school meal inspiration.